Our Process
Prepping: Before we clean any floor tile and grout we remove all furniture in the area. Doing so, leaves us with enough space to work with. If, the room is large enough often times we can move furniture to one end of the room, clean one side, and move the furniture in it's proper place.
Scrub tile and grout: After prepping, we then proceed to use professional grade tile and grout cleaner and a specialized tile and grout cleaner brush to scrub out all the tile and grout to help loosen any trapped dirt, grime, mildew and more.
Hot-water extraction: The hot water extraction is a high pressured rinse and extraction process that removes all the chemicals we applied and all the remaining dirt and grime left over. Leaving your tile bright and your grout lines lighter!
Hot-water extraction: Once the cleaning process is complete we can instantly apply tile and grout sealant, even on damp tile! The sealant will seal your porous tile and grout. The sealant will create a barrier between the hazards of dirty tile and your tile!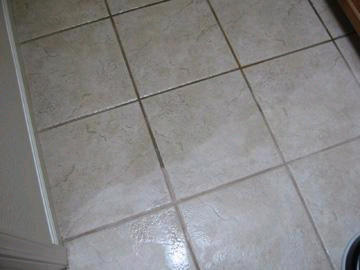 Since tile and grout are porous it may take some time for any noticeable differences after cleaning As it goes to dry you will notice a brighter shine to your tile and lighter grout lines.